Latest News

About
Demise began its life in September '04 and, as part of the UOGamers family, quickly grew to a popular shard. Formerly the flagship development shard of the RunUO Software Team, last released publicly in 2013, it has since undergone a paradigm shift exceeding all expectations as a standalone shard.

Over the years, Demise has built one of the strongest, most supportive gameplay communities, alongside an unparalleled level of reliability and uptime. With so much love and fondness for Demise, from both players and the staff team, the future looks bright!

Demise strives to retain the core gameplay of a Mondain's Legacy era shard, with a few added extras. Come and explore the endless possibilities, from dungeon Doom to crafting to PvP to Peerless and much more! Join our community to keep up with the latest news, make new friends and you will no doubt feel right at home. With an established staff team and year-round events, entertainment is guaranteed!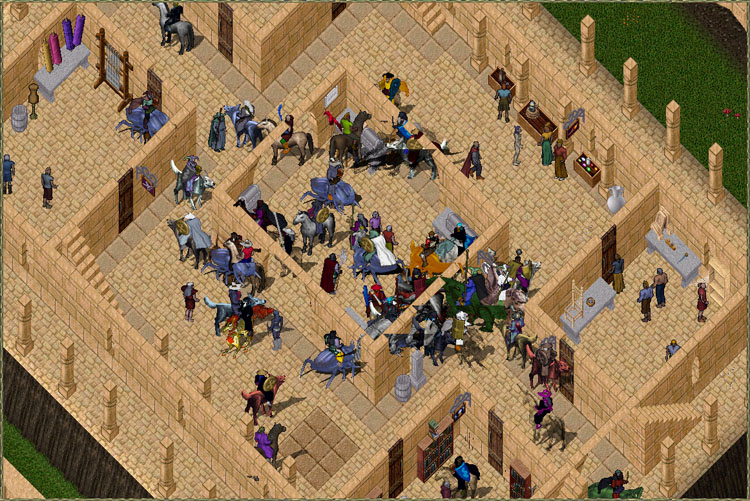 Character Playstyles
SAMURAI
An elite warrior seeking perfection through battle, striking with great accuracy and master in weapon parrying.
NINJA
An assassin who uses stealthy tactics and deadly magic in combat to confuse and weaken their enemy.
Warrior
Physically tough adventurers, donning heavy armor, battling their foes in all-out hand to hand combat.
Mage
An expert magic user, both defensive and offensive, well-equipped to deal out damage and most effective at a distance.
Paladin
A holy warrior, protector of the virtues, equipped with a number of defensive and offensive abilities.
Necromancer
Wielder of death itself, using the power of the other side to both attack their foes and to protect themselves.
Blacksmith
A noble crafter using gathered ore smelted into ingots to forge powerful weapons and armor for the realm.
Custom
Any combination of stats and skills (from 55 available skills) your heart desires. Define your own adventure!
New Player Setup
Demise uses the latest, official, unmodified UO client.

Client download (official website):
http://www.uo.com/Client-Download (Classic Client, direct link)
Assistant download:
Razor -or- UOSteam

Run the client at least once without Razor/UOSteam to ensure it is fully installed and patched.


Connecting to Demise
Simply select "UOGamers: Demise" in the Razor/UOSteam welcome screen. Accounts are automatically created.

Server: login.uogdemise.com
Port: 2593